This article is about the series. If you were looking for an article about the character, go here.
Kaeloo
is a French animated series with three seasons, the first and second having 52 episodes, each 7 minutes long, and the third having 46 episodes, one 26 minutes long and the others 7 minutes long. The series has been renewed for a fourth season, though it is currently unknown how many episodes it will have. The series is a CGI cartoon by Rémi Chapotot and Jean-François Henry and produced by Cube Creative associated with Blue Spirit. The series has been airing since June 6, 2010 on Canal + Family and Canal +. The third season released on September 4th 2017, but
the first episode of the season
, a 26-minute special, aired in December 2016.
The show centers around the adventures of a group of buddies, Kaeloo, Stumpy, Quack Quack, Mr. Cat, and of Season 2, Pretty, Eugly and Olaf, who play games to keep themselves from getting bored. Things always go wrong due to Stumpy's ineptitude at almost everything, Quack Quack's addiction to yogurt, Pretty's unkindness, Eugly's emotional vulnerability, Olaf's desire to take over the world, Mr. Cat's constant cheating and abuse of the others, and most of all, Kaeloo's ability to transform into a hulking monster named Bad Kaeloo when angered.
Continuity
The series has some continuity in it, for example in "Let's Play Super Future", Kaeloo realizes that the buddies still have the time machine from "Let's Play Time Travel", and they use it to visit the series Pilot.
The series also has a lot of negative continuity, and several characters have been blown up, driven insane, decapitated, launched into orbit, trapped in different dimensions, etc. only to appear perfectly fine in the next episode.
The show originally started out as a short three minute film produced for Annecy 2007. The animation style of the pilot was very different from that of the rest of the series. It featured four characters, Kaelou (who would become Kaeloo in the actual show), Moignon (who would be renamed Stumpy in the rest of the English dub of the show), Quack Quack and Mr. Cat.
Season 1
The first season of Kaeloo had only 4 characters, Kaeloo, Stumpy, Mr. Cat and Quack Quack. It had 52 episodes, each 7 minutes long.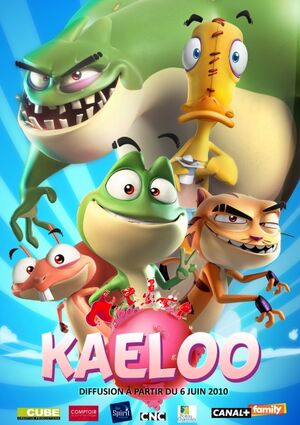 Season 2
The second season had 52 episodes, each 7 minutes long, just like the first one. It introduced new characters Pretty, Eugly, Olaf, and
Olga
. It was never officially translated into English, with the exception of "
What if We Played at Riding Ponies?
", which was done by Miam! Animation. The following episode titles are conjectural and have been unofficially translated from French.
Season 3
Season 3 is slated for release in September 2017. It is unlikely that the season will be officially translated into English. The show's official Facebook page confirmed that a 26-minute special would be airing on December 18th, 2016 in France.
Season 4
The series has been renewed for a fourth season. No release date has been provided yet.
Trivia
The show has been noted for its ability to entertain both children and adults.
It is Cube Creative's first animated series.
All the episodes have names starting with "Let's Play...".
The show was originally going to be titled "Kaelou".
External links